Michigan Difference Student Leadership Awards
Each year Student Life rolls out the blue carpet to recognize student leaders that are doing amazing things on campus, in Michigan, and around the world. These student leaders are nominated by their peers, faculty and staff.
This years event will take place March 24, 2020 at 6pm in the Michigan League Ballroom.
Nominations are open until February 24th use the buttons to the right to nominate. All students undergrad, graduate and professional students are eligible. 
For questions about the event please email bluecarpet@umich.edu.
Follow these links to view previous award recipients:
Amanda Riesmeyer & Anna Piccione
Club Sports Female Athlete of the Year
Amanda is the captain of the Women's Club Lacrosse team, and led the team to an undefeated national championship last Spring. Her performance on the field earned her the honors of being named both WCLA Defender of the Year, as well as a Division 1 All-American. She inspires her teammates to give their all, on and off the field, and above all leads by example.
Anna set the club record in the 6k (cross country) and 3k (track & field). She was the individual NIRCA Champion in the 5k (track & field) and placed 4th individually at the NIRCA cross country championships. She led the women's cross country tam to an undefeated season and a national championship as the team's lead runner. Anna has also served as the club's Distance Training Chair.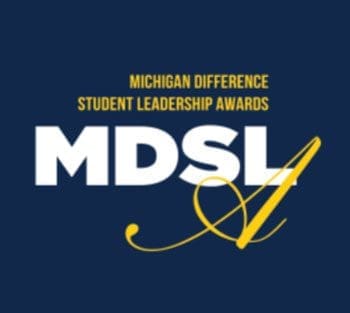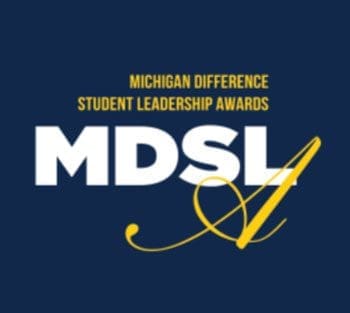 Ben Mansky
Club Sports Male Athlete of the Year
As the captain and vice president, Ben has shown leadership both on and off of the ice. This year he has the lead the team to their 4th consecutive regional tournament appearance. Over four years, Ben has played in 96 games, and scored an extremely impressive 1.35 points per game. This year as a senior, he averaged 1.74 points per game with only 10 penalty minutes. With Ben's performance and on-ice leadership, the team has been achieved the best program record in 5 years (14-4-1).
Running Club
Club Sports Community Service Award
This is the 11th year MRun has organized the Race Across Michigan (RAM), a 24 hour relay race across the state, which fundraises for Special Olympics. Last year our team raised $28,000 for the Special Olympics of Washtenaw County and this year our goal is to raise $30,000. Along with RAM, MRun participated in Natural Area Preserve cleanup days in which they volunteer to conserve many of the natural areas in Ann Arbor that are valued for their running accessibility. They participated in My Team Triumph, in which they paired up with a community member with physical disabilities and enable them to participate in a local 5k race with a club member. Lastly, they made and donated blankets to Mott Children's Hospital.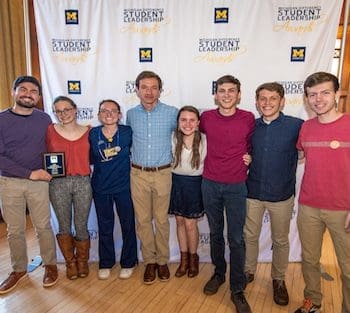 Women's Volleyball
Most Improved Club Sport
This year, the Women's Volleyball Club has found great administrative and competitive success as a team. They have seen increased practice attendance, hosted two tournaments, and found new success in fundraising. Competitively, the A- team won their first tournament since 2014, and have the most competitively successful B-team in club history. These items were achieved through a team effort to step up when an obstacle crossed their path.
Club Softball
Club Sport of the Year
Club softball has moved mountains over the last two years. Last year, the team became ranked 11th in the country in club softball. This year they have won the overall triple headers for every game day except 1 and are on the track to make an appearance at nationals, once again. The club has had a significant increase of donors this past year with Giving Blue Day. They have increased their number of donors by over 300% compared to last year and they expect to grow that number even more in the future. The softball club also has created visibility in the community by participating in the the Ann Arbor/Ypsilanti Walk to End Alzheimer's back in September.
Lyric Kleber
Janet K. Wells Outstanding Leadership Award
Lyric led the Men's Rugby team forward in all directions, from raising record amounts of money to pushing the dozen officers beneath him to perform at their maximum potential. Lyric kept the team on track through a tough fall season and, although his presidency ended in the Fall, he continues to hold a major administrative role on the team.
As described by his teammates:
"Lyric is not only a strong and compassionate leader, but is a friend to anyone. He is someone I trust completely and he is a tremendous example of leadership both on and off the field. From lifting sessions to community service, to friendships – he makes everyone feel welcome and always makes sure we get work done while having fun in the process."
Yazmon Ektor & Stefan Savoy
Cross Cultural Programming Award
Yazmon Ektor and Stefan Savoy worked with Stamps lecturer Andrea Cardinal on developing the MLK Symposium Wordmark, commissioned by the Office of Multicultural initiatives, for the 2019 MLK Symposium. As described by Ms. Cardinal, the mark is intended "to represent Dr. King's enduring message, depicting the solemnity of the pillars of his mission, but with detached elements to symbolize the connections that are still to be made, the progress that is yet to be won. The mark is designed to have implied symmetry, signifying balance and equality.. [and] is aligned with the visual presence of the current Black Lives Matter movement."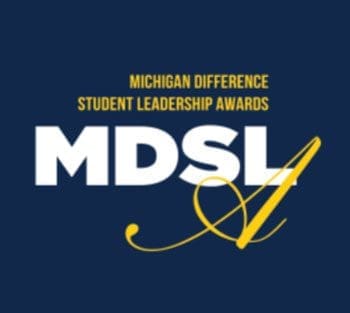 Redefine
Cross Cultural Programming Group Award
Redefine aims to promotes social respect through the exhibition of student artwork created from experiences with inequality. Bi-annually Redefine hosts a themed showcase to promote social acceptance by informing and reinventing mass perception of marginalized people. Last year, Redefine hosted Shift, a talent showcase highlighting the diversity of students and appreciating the experiences of immigrants, refugees, and students of all cultures. Redefine brought together people from all backgrounds into a brave space and the atmosphere was a positive and uplifting one, leaving the audience with a better understanding of the students around them.
Sofia Lynch
Fine Arts Award
Sofia is a natural born leader, and an extraordinary talent. Sofia plays the main character in the show, "Streaming Now," about a struggling musician looking to find her place in the world. In addition to her work in front of the camera, Sofia served as co-showrunner and writer on the TV pilot "Quetzal Verde." She guided each aspect of the production, including writing, casting and design. When the production was over, she was offered the position of director for FTVM 423, the highest level production class in the film department. Since transferring to Michigan from a local community college two years ago, Sofia has accomplished so much with the kind of character, humbleness, and humor that makes many of her fellow artists want to work with her.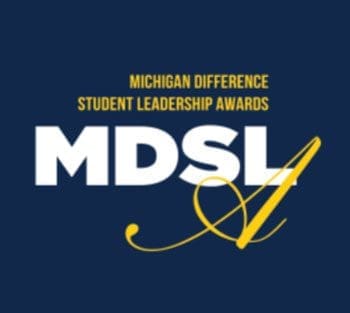 ComCo
Fine Arts Group Award
In a more progressive time where issues of mental health, personal wellbeing and self care are no longer taboo, we must recognize the power that comedy holds on our campus. We have many improv and comedy groups, however, ComCo has reached the most students in their long history. At their last show they had over 500 students come and watch, joining together as a community for 90 minutes of pure laughter. It is essential we reward groups such as this that perform for the enjoyment of others and reach so many students every show.
Charlene Franke
The Global Impact Award
Charlene interned in Colombia last summer, and used her business education to help small business owners improve accounting practices. While sharing her knowledge, she prioritized cultural understanding, learning from the entrepreneurs as much as they learned from her, and empowering them to make sustainable changes so they could continue to thrive once she left. Furthermore, amongst students seeking to make a positive impact on the global community, Charlene identified the problem of voluntourism. To mitigate this, Charlene arranged for a renowned educator of positive global engagement to visit campus and speak to a group of students, enabling 20+ students to think more critically about their own global impact.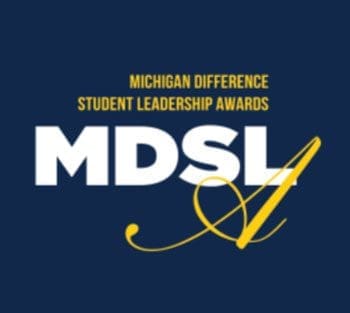 Blueprints for Pangaea
Global Impact Group Award
Blueprints For Pangaea is a 501(c)(3) healthcare nonprofit founded in 2013 by Michigan students with the mission to alleviate global health disparities by empowering students to collect unused medical supplies from the US and send them to countries in need around the world, creating an avenue for international awareness and collaboration. In 5 years, with 20 students, Blueprints has reallocated 60,000+ lbs of medical supplies worth $2,000,000+ to four countries around the world. Blueprints continues to grow its impact by spreading its mission to six college chapters thus far and innovating to increase supply donations. This team embodies and achieves their mission through its international involvement.
Rebekah Townsend
Innovation or Research Award
Rebekah took on an ambitious project to find a way for Adventure Leadership to be more inclusive to those with physical disabilities. Outdoor recreation can be difficult for those with physical disabilities to engage with, but Rebekah found ways for facilitators to be more inclusive. Not only did Rebekah introduce the whole team to new activities they could lead for groups, but she also found effective ways to modify current activities to be more inclusive. After doing this research, Rebekah lead a training and created a guide as a resource for the team to have at the forefront of their mind.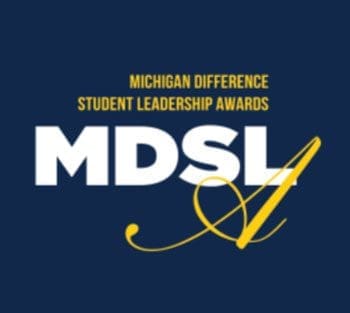 The Dot Org
Innovation or Research Group Award
The Dot Org partners with MISSION, a local nonprofit that supports community shelters. For this initiative, they provide menstrual products on a monthly basis to people who cannot afford them, ensuring they will get new products each month. They also have developed a system to keep their efforts accessible and sustainable. They are working with local businesses such as Savas, Aventura, and The Blue Leprechaun so that the businesses can provide products to their customers. The proceeds from this subscription service go towards efforts to provide products to the people experiencing homelessness. This innovative approach to solving a community problem has led to grants from the Barger Leadership Institute and the TedX Award for Innovation.
Alberto Acosta
Alex Johnson
Alex Wilf
Alexander George
Alison Jaruzelski
Allison Horwitz
Allison Kench
Allison Norton
Amani Echols
Anna Learis
Ashley Soto
Austin Glass
Aya Fattah
Bassel Salka
Brett Zaslavsky
Brianna Thomas
Brigid Cummings
Carly Ryan
Carly Ryan
Caroline Slack
Charlene Franke
Charlene Ruloff
Charlotte Yang
Christian Wire
Collin Vani
Cryserica Jeter
Daijha Morrow
Daniel Jenkins
Daniel Jenkins
Dustin Dewitt
Elena Simpkins
Emanuel Papageorgiou
Emily Goodrich
Emily Russel
Emily Russell
Erica Ito
Evon Yao
Feiran Li
Gabby Franco
Grace Giordano
Grant Rossi
Haley Amemiya
Halimat Olaniyan
Hoai An Pham
Indica Sur
Isabel 'Izzy' Nakisher
Isha Bhatt
Jack Riley
Jacob Bone
Jasmine Bell
Jenny (Iam) Hong
Jess Bach
Jessica Selzer
Jessica Thomas
Julia Stuart
Julia Whang
Kaitlin Vanderyacht
Kaleigh Niles
Katelyn Westa
Kathleen Ascrizzi
Kathy Zhu (Xuanqi Zhu)
Kayla McKinney
Kayleigh Jardine
Kelsey Rose
Kettianne Cadet
Kevin Lieberman
Kevin Xu
Kim Snodgrass
Kristen Cross
Kristen Hayden
Kyle Sullivan
Laura Hollander
Lena Dreves
Lindsay Ma
Manda Villarreal
Maren Longnecker
Mario Dresaj
Marzia Oceno
Maya Goldman
Meaghan Wheat
Michael Haynes
Miles Honey
Molly Patterson
Morteza Fayazi
Natalia Cuevas
Nathan Ng
Nikhita Khosa
Olivia Kinker
Olivia Livernois
Pearl Strieter
Rasha Abduljaber
Rasha Jawad
Rebecca Townsend
Richard Doktcyz
Sahil Dagli
Samantha Weiser
Samara Jackson-Tobey
Samuel Finn
Sarah Hill
Sean McGuire
Seth St. Pierre
Siena McKim
Sierra Nance
Sikander Khan
Silan Fadlallah
Sofia Lynch
Sydney Lopez
Tala Taleb
Taylor Jenkins
Thomas Walkinshaw
Tia Clinton
Tyler Robert
Watt Wang Yinghao
Yolanda Marti
Adventure Leadership – Teams
Alpha Epsilon Delta (APhA-ASP)
Art for Social Change in Japan: Spring 2018
Association for Women in Science
Association of Multicultural Scientists
BBA DEI Taskforce
Beta Alpha Rho, Pre-Law & Public Service Fraternity
Blueprints For Pangaea
BOND Consulting Group
Casual Gaming Club
Central Student Government
Change it Up! Student Staff 2018
Clarence Womack and Princess-Amanda
Clean Wolverines
Comedy Company/ComCo
Communications Team for Wolverine Wellness
Engagement in Green Infrastructure Design
Consent Outreach and Relationship Education (CORE)
Creatives of Color
Delta Sigma Theta Sorority, Inc
Disabilities Rights Organization (Michigan Law School)
Engineering Global Leadership Honors Society
Epsilon Alpha Sigma Sorority, Inc.
FIRST Alumni and Mentors Network at Michigan (FAMNM)
Graduate Rackham International (GRIN)
Health Equity High School Summit
Hill Diversity Peer Educators
International Center Student Council
Intramural Sports Student Coordinators
ISA (Islamic Society of Ahlulbayt)
Kappa Alpha Pi Pre-Law Fraternity
Kappa Phi Lambda
Lambda Theta Alpha
LGBTQ+ Survivor Peer Led Support Group
Maize & Blue Cupboard
MDes Cohort 3
Mentality Magazine
Michigan Climbing Club
Michigan Graduate Consulting Club
Michigan Interactive Investments
Michigan Materials Society
Michigan Movement
Michigan Real Estate Club
Michigan Undergraduate Research Symposium
MUSIC Matters
Muslim Students' Association (MSA)
National Society of Black Engineers (NSBE)
Ophthalmology Mentorship Led Pipeline Program
OutLaws
Paani
Peer Assisted Study Sessions Program
Phi Delta Chi
Pi Beta Phi
Propeller Collective
Psych SAA Student Leaders
Public Service Intern Program
Redefine
Ross BBA Diversity, Equity, and Inclusion Task force
Rude Mechanicals
SAPAC Peer Led Support Group
Sexual and Gender Diversity in Public Health (SGDPH)
Sigma Gamma Rho
South Asian Awareness Network
Stamps in Color
Students for Clean Energy
Students Organize for Syria
Survivor Empowerment and Ally Support (SEAS)
The Dot Org
The Public Service Intern Program
The Quito Project
The Roosevelt Institute
Transfer Student Leaders
UMSO: University of Michigan Science Olympiad
University of Michigan Amateur Radio Club, W8UM
University of Michigan Men's Glee Club
UROP Peer Facilitators
Wolverine Wellness Communications Team
Yazmon Ektor and Stefan Savoy
Ashley Korn – Athletics
Danielle Edwards – Fraternity and Sorority Life
Emily Sherwood – Housing
Evelyn Winter – Chief of Staff CSG
Jim Hoppes – Dean of Students
Joshua Thurman – Fraternity and Sorority Life
Marilena Soberal – Center for Campus Involvement
Raivynn Smith – Spectrum Center
Sheila Calhoun – Recreational Sports
Steve Bodei – M-LEAD
All our nominators
All our presenters
Center for Campus Involvement
Entrepreneurship + Innovation Programming Forum
Ginsberg Center
Groove
Jazz Band – Alexander Warholic, Carlos Taboada, Eli Bucheit, Sam Winter
Student Life Human Resources
Sam Janicki Photography
Wolverine Wellness