Leadership Education for

SOCIAL CHANGE
with a collective impact approach
Sign up for our newsletter
Leadership in your inbox once a month only a click away!
Happenings
News, Events and Opportunities
Each semester 
ALA 171: Making the Most of Michigan
, a 7-week activity-based course, helps first-year and transfer students get involved, meet people, and present themselves professionally to the world at large.
The Michigan LeaderShape Institute is an ethics-based leadership development experience for University of Michigan students. It is six days of non-stop self-discovery and learning from practical experiences that build your leadership concepts and abilities.
on Mar 2nd – Mar 7th, 2020
Click here to apply!
Each year Student Life rolls out the blue carpet to recognize student leaders that are doing amazing things on campus, in Michigan, and around the world. These student leaders are nominated by their peers, faculty and staff. Nominations will be open in January.
Click here to learn more! 
Consulting
We work with faculty, staff, and students to create, design or enhance leadership development opportunities, including providing resources and best practices in the field of leadership education.
Partnering
We partner with schools and colleges, and student organizations to support their leadership education efforts.
Promoting
We work to create access for all students to find leadership opportunities, through our website, newsletter and other channels.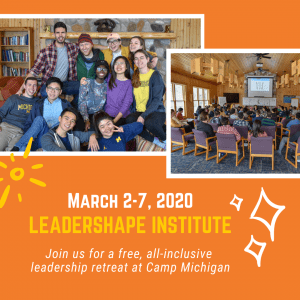 Watch our Emerging Leaders Conference videos!
Our Opportunities
Student Life has a comprehensive offering of leadership opportunities, from one-hour workshops to week long retreats. Click on the tiles below to learn more or go to our opportunities page to find what is right for you.
"OrgLead is truly an unparalleled learning opportunity if you want to develop your organizational leadership skills in one semester."