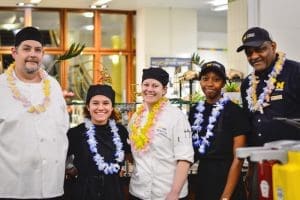 About the Program:
Student Managers in MDining gain experience providing oversight of diverse teams in dynamic environments. Our student leaders develop valuable business management skills that prepare them for team settings and future leadership roles! Student Managers receive 6 weeks of leadership training, covering topics like Communication, Emotional Intelligence, Train the Trainer, Delegation, and Inclusive Leadership Strategies. Most Student Managers begin as entry-level Dining staff, and many move into the leadership role within one semester of beginning their work with Dining. Those interested can reach out to foodiejobs@umich.edu to ask about employment opportunities!
Competencies:
Adaptability, Authenticity, Building Relationships, Empathy, Resilience
Applications Open:
October and February
Takes Place:
Student managers are able to work for MDining year round. Hiring happens in the Fall and Winter.
Intended for:
All Students, Graduate Students, Undergraduates